NETWORKING PRODUCTS
UTP CAT 6 PATCH PANEL 24 PORT

Patch panels are made of 1.6 mm thickness metal black colour painting. It is perfect for high-speed image, voice and data transmission..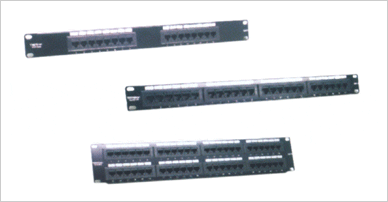 FEATURES :
110 & Krone Dual Block.

Panel material : 1.6mm thickness Metal, Black colour.

Jack Module : 8P8C 8 Port.

Connector : New Version 110D
Connector for KRONE & 110 Impact tool

P.C. Board : FR4 1.6mm

Screw : Round Head.

KEYSTONE JACK SPECIFICATIONS :
Apply UL-94V high-impact,fire-retardant ABS material.

A pair punch sequence enables a pair twist within 1/2" of termination.

Spring copper contact : 50- " gold-plated pins over 100- " nickel layer.

Insertion life cycle : 1000 cycles (min.)/I.D.C. 250 cycles (min.)

Operating temperature : -40 C to +68 C

ELECTRICAL SPECIFICATIONS :
Insulation Resistance : 500M.

Current rating : 1.5 Amps.

Dielectric withstand Voltage : 1000V AC RMS @ 60Hz/1 min.

Contact Resistance : 20M.

DC Resistance : Max. 0.1

Kabir Technology Pvt. Ltd.
Redg. Office
B-103, Jainam Arcade, 1st floor,
Bhaichand Textile Mill Compound,
Above Union Bank, L.B.S. Marg,
Bhandup (w), Mumbai, INDIA 400 078